Marino Bassi completes 50 years of contribution to the refrigeration industry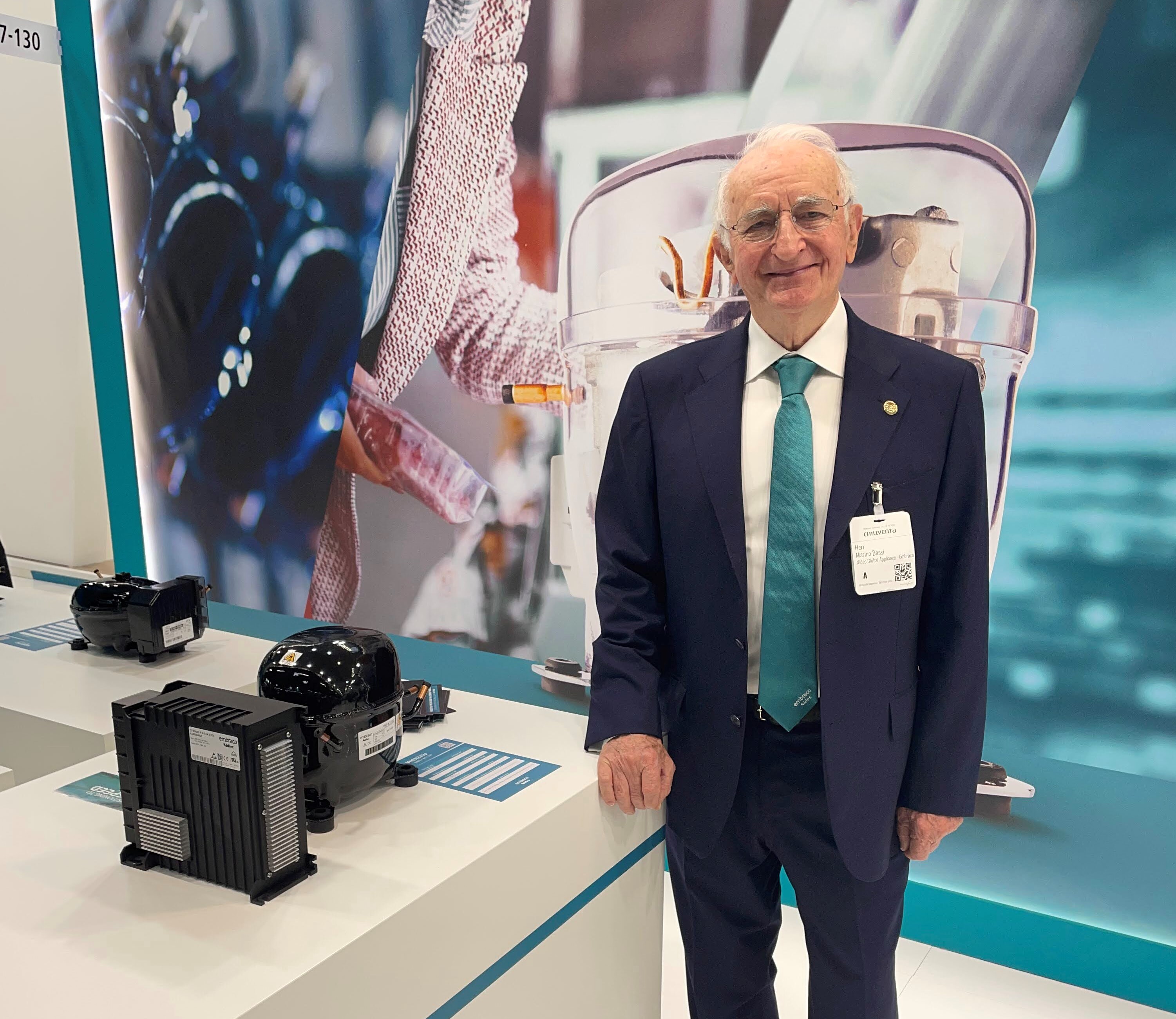 The Italian engineer was part of historical landmarks in the sector, such as the introduction of hydrocarbon refrigerants for Embraco compressors
In 2022, Marino Bassi, Key Account Senior Advisor at Nidec Global Appliance, completes 50 years of career as an influential and respected professional of the refrigeration industry in Europe. As a member of the Embraco team since 1994, which is now a brand of the Nidec Global Appliance portfolio, he helped to shape the modern solutions available nowadays by occupying different roles in the business. Currently dedicated to the portfolio for commercial applications, he has a strategic position as technical liaison between Embraco, OEMs, and end-users, always with eyes wide open to the customers' views and needs. Among his many achievements, he participated in the introduction of hydrocarbon refrigerants as solutions with low global warming potential for commercial applications in Europe, anticipating the demand for more sustainable approaches that is seen in the industry today.
Italian-born Marino Bassi graduated in Electrical Engineering at the Pavia University of Studies (Lombardy). He chose the refrigeration sector during a time it was gaining popularity among end-users across Europe. In 1972, he got his first position in the field as technical support in Aspera, which was later acquired by Embraco, the Brazilian-born compressor producer that was expanding operations and building its way to be a global reference in refrigeration technology for home appliances and commercial applications. "Embraco had this attitude to be the first, a vision of growth. There was an admirable ambition, a willingness to invest in the products and continuously improve them. That got me excited to be part of it," Marino describes.
This connection with Embraco's innovative culture remained throughout time and allowed him to participate in many milestones of the refrigeration sector's technological evolution. "Right after the diffusion of hydrocarbons, which Embraco strongly contributed to, the launch of variable speed compressors in commercial refrigeration, and the energy savings brought by this technology, was a huge moment for environmental sustainability and for operative costs reduction. Variable speed is now strongly demanded by customers and retailers: the technology allows consistent indirect emissions reduction and, for the people who pay the energy bills, important cost saving. In addition, its adoption facilitates compliance with the energy efficiency regulations of the cabinets", he explains. 
Long-term trainee
Asked about his perception of such an outstanding professional career, he does not hesitate in declaring himself a long-term trainee: "I try to keep myself open and curious, and see my experience as a background for grasping customers' needs and addressing innovation. I like to say: innovative experience".
Now, the activity of providing specialized training for partners, end-users, refrigeration equipment manufacturers and society in general, is a key task in his work routine. Together with fellow technicians, he travels across Europe and Latin America to lecture about Embraco´s optimized solutions as well as to disseminate information about sustainability in the cold chain, as partner in the Real Alternatives 4 Life training (an European Union funded training program of which Nidec Global Appliance is a stakeholder). 
Marino is also an assessor at the examination of the refrigeration, air conditioning and heat pump technicians, in partnership with Centro Studi Galileo; he is a member of the European Committee for Standardization, regarding commercial and professional appliances, as well as a member of the International Institute of Refrigeration (IRR) Safety WG1 and WG2.
"Marino Bassi has contributed to make the Embraco brand known and respected in Europe and, consequently, in the world. He is admired as a great source of knowledge about the market, products, and trends, as well as an inspiration," highlights Daniel Campos, Head of the Commercial Appliances Business Segment at Nidec Global Appliance.
A glimpse of the future 
As a privileged witness of the refrigeration evolution, Bassi offers a wise evaluation about the future. "We live in a period of great transformation and quick acceleration that demands fast adaptation. In this context, I believe the refrigeration industry will continue to offer better solutions according to society's needs and expectations," he says. "The future seeks efficiency improvement and innovation. Sustainability is a fundamental value for the compressors. This means miniaturization of products, extended cooling capacity, natural refrigerants, variable speed technology, and high energy efficiency. All these features are and will continue to be more and more important and requested by users, as there is a growing attention to the environmental sustainability and to the total cost of ownership of the finished products."