Embraco showcases its main product launches at AHR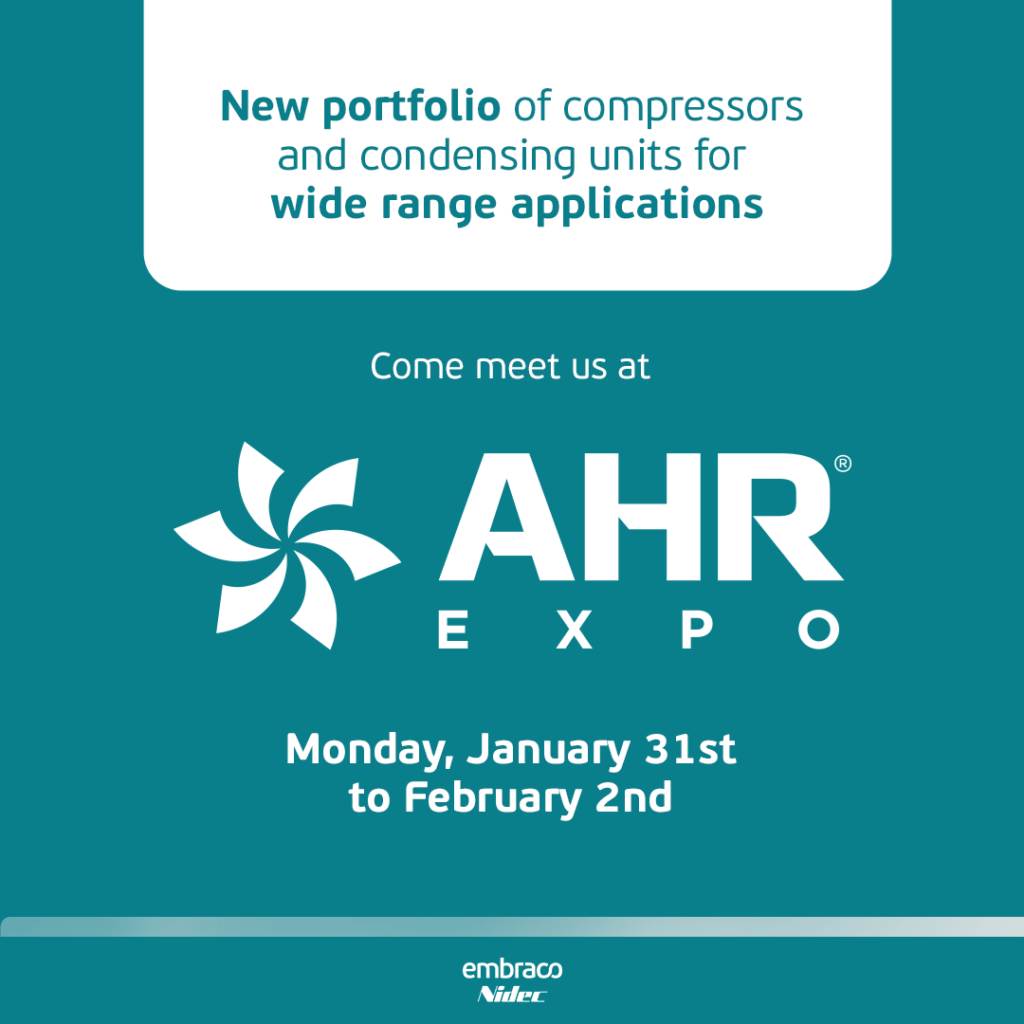 The brand brings a range of new products focused on food service and food retail applications and distribution & replacement markets, including variable and fixed speed compressors, condensing units and spare parts
January, 2022. Embraco, a global provider of refrigeration technology for the residential and commercial cold chain and part of the Nidec Global Appliance's portfolio of brands, will be launching multiple solutions for refrigeration at the AHR show, in Las Vegas, from January 31 to February 2. From single and variable speed compressors, to cooling systems, such as condensing units, each product launch brings innovations to fulfill the commercial refrigeration needs, mainly for the food service and food retail segments. The brand will also be highlighting new products and spare parts for the servicemarket, such as the universal replacement inverter.
EDP: new condensing units portfolio
AHR will be the first public appearance of Embraco's new condensing units (CDUs) portfolio, the Evaporative Drain Pan (EDP) lineup, designed for reach-ins and under-counters in the food service segment.
These condensing units are among the most compact in the market, starting from 10.4 inches high. The versions for reach-ins can deliver from ¼ to 1 HP of cooling capacity, while the versions for under-counter go from ⅛ to 1 ½ HP.  Equipped with highly energy efficient Embraco compressors, the new lineup has a vast array of options in natural refrigerant R290 – which are in line with all  global warming potential regulations – and includes, as well, options using variable speed compressors. 
The EDP condensing units also bring a new design concept that solves draining issues, by having the evaporative drain pan installed below the compressor, with a reservoir capacity up to 79 oz (2.3 liters) and a hot loop to speed up the evaporation process. Another important aspect is that the drain pan is removable, facilitating maintenance or replacement in case of wear throughout the equipment lifetime.

From compact to large
Embraco will also present at the trade show its wide size range of condensing units, focused on attending food retail and food service applications, respectively. 
Embraco's largest indoor condensing unit (the UNT) is part of the brand's second generation standard portfolio, presenting 1 ¼ HP of cooling capacity. With customized features, its main applications are open specialty display cases and grab & go cases very common in bakeries and convenience stores. Highly energy efficient, it has two fans with electronic motors (ECM) and reverse flow function, which expels the dust from the condenser. The water reservoir is made of stainless steel, with a 2 gallons capacity and a hot loop to accelerate evaporation. It also can include a dual pressure switch that shuts down the compressor in the event of too high or too low pressure, protecting the unit's components for long reliable operations.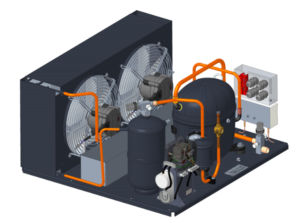 Embraco's most compact condensing unit (the UMC) has a height of only 7.5 inches (192 millimeters), and is perfectly suited for one and two door under-counters used in professional kitchens and bars. It has a cooling capacity of around 1000 BTU/hrs in the version for refrigerators and 900 BTU/hrs in the version for freezers, and works with  natural refrigerant R290.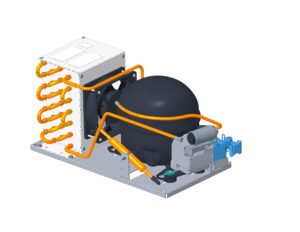 VEMT: the new variable speed compressor
Another recent product launch that will be presented at AHR is the Embraco VEMT, the newest member of the VEM family. This variable speed compressor is suitable for merchandisers and food service refrigeration equipment like bottle coolers and under counters. The new solution adds to the VEM platform a future proof option for  natural refrigerant R290.
The VEMT is one of the most energy efficient compressors in its range of cooling capacity, presenting up to more than 10% higher efficiency than equivalent models in the market (at ASHRAE LBP parameters). This compressor's cooling capacity reaches 1,200 Btu/h, with only 4cc of displacement, and boasts a high starting torque, even in very low voltage circumstances.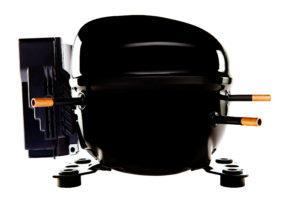 NEX and EMX: the new fixed speed compressors
In the fixed speed portfolio, Embraco brings to AHR the NEX compressor, the fourth generation of the NE family, which is known for its high reliability and low noise levels.  It is a solution suitable for applications such as display cases, ice makers, professional kitchen refrigerators, beverage coolers and blast chillers, due to its efficiency and reliability. It is suitable for use with R290. The new model features improvements in energy efficiency,  up to 10% in low temperature applications, and larger cooling capacity, with the extension of its maximum displacement from 18.7 cc to 21 cc.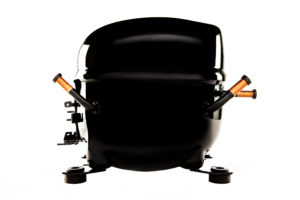 Another fixed speed compressor, which is being launched at the trade show is the EMX HST, the third generation of the EM compressors platform, now bringing the feature of high starting torque at the highest energy efficiency level in the market. It was developed to serve applications that require a robust compressor, capable of starting in situations of high thermal load, like constant door openings and frequent product reload, very common for bottle coolers, beer merchandisers, under-counters and professional kitchen's reach in freezers and coolers. The EMX has a range of displacement from 4cc to 9.5 cc and is produced in multiple manufacturing plants, including in Mexico. It is also suitable for use with R290.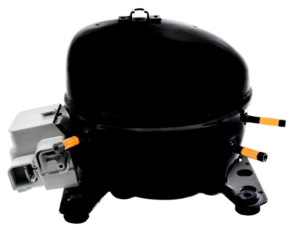 Distribution and service
Embraco's booth at AHR will also be displaying an assortment of spare parts for the service market. The highlight is the Universal Inverter, ideal for maintenance of just about any variable speed compressor in residential applications, such as side by side, top mount and french door refrigerators. 
The new solution can replace over 90% of installed inverters in the field using just 2 different Universal models. Each inverter already comes with Embraco's signature control logic, enabling the variable speed compressor to quickly be back up and running within minutes, without the need for additional programming or set up.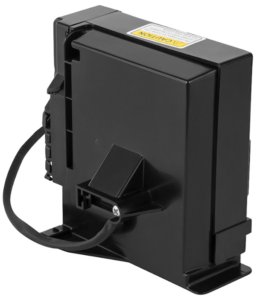 Register now, for free (until January 30th): https://bit.ly/3GFGPVm