Embraco presents case study with a result of 41% energy savings in food retail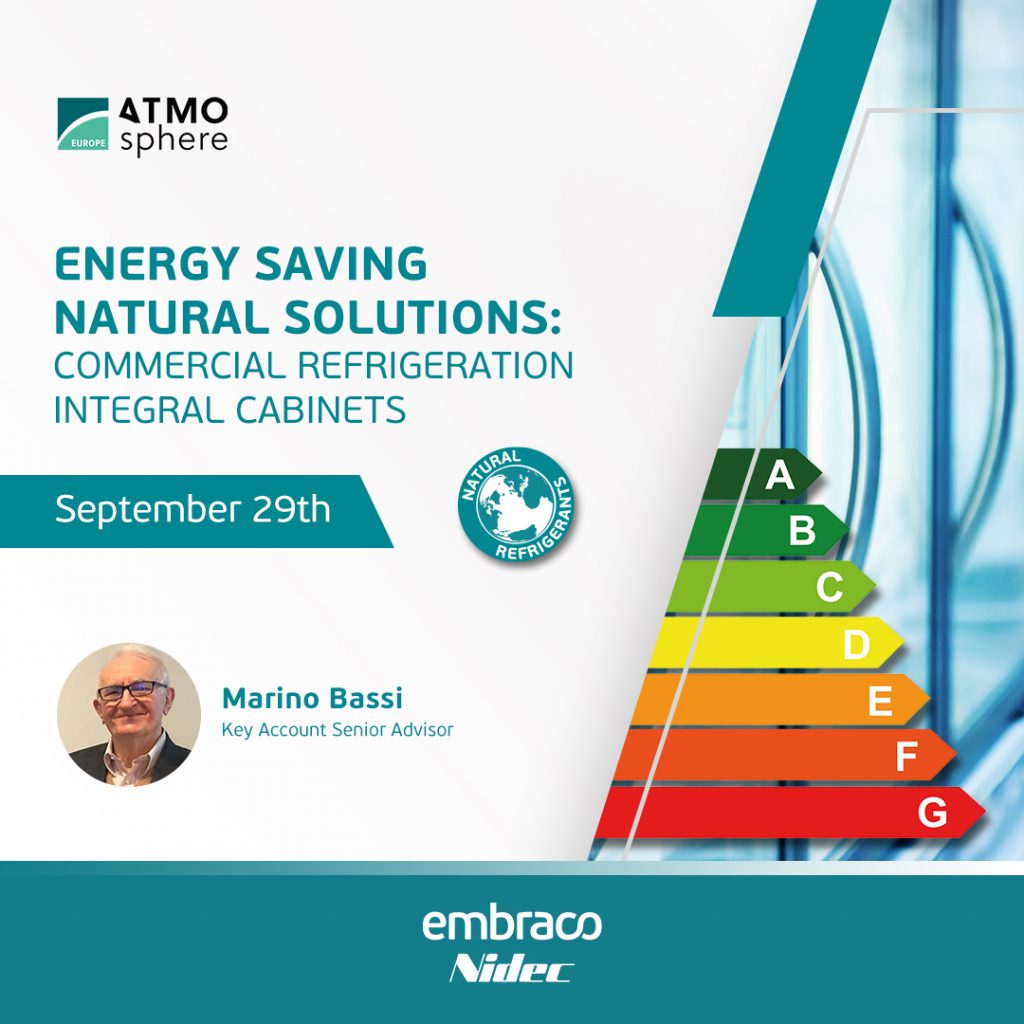 The refrigeration equipment analysed had a variable speed compressor with natural refrigerant R290 that was compared with an already top efficient solution
Embraco, a global provider of refrigeration technology for the complete residential and commercial cold chain, and a portfolio brand of Nidec Global Appliance, presented a case study at the last AtmoEurope, online event held on September 29th, in which a variable speed compressor reached 41% energy savings in comparison to a fixed speed that was already a high efficiency model. 
Such a result could allow the application, a vertical supermarket freezer, to skip from C to B label on the European energy efficiency labelling system. The case study was done in partnership with Epta, multinational Group specialised in commercial refrigeration for retailers and a long time customer of Embraco.
"This result shows that the commercial refrigeration industry can deliver great energy savings to retailers and, consequently, a better total cost of ownership, with the migration from fixed speed compressors (also known as on-off) to variable speed", says Marino Bassi, Key Account Senior Advisor at Nidec Global Appliance, who presented the Embraco case study at Atmo Europe alongside Epta. 
"We see an increasing customers awareness regarding energy label ratings, as long as they get diffused and provide a clear comparison between different solutions;" states Marco Solimeo, Epta Research &Development laboratory manager, who continues: "competition on this field will positively drive OEMs (original equipment manufacturers) to privilege high efficiency components, and variable speed compressors have a key role in this phase".
The compressor makes a big difference
According to an official study made by the European Commission, electricity running costs account for 60 to 80% of the life-cycle costs of all major types of commercial display cabinets. So studies like the ones presented by Embraco and Epta show how much the compressor makes a difference. 
"There are different aspects over which you can actuate on a refrigeration equipment to improve efficiency, like e-glass, insulation, etc. But the biggest contribution comes from the compressor. So, we believe that variable speed adoption is inevitable in order to cope with upcoming efficiency requirements", Bassi explains. 
Environmental sustainability and cost saving perspectives are part of a bigger context that is pushing towards making energy efficiency a priority in commercial refrigeration. Regulations are an important part of the picture. Since march this year, the European Commission's Ecodesign and Labelling regulations have  encompassed commercial refrigeration appliances and created a selection of products according to their energy performance.  
Embraco FMFD was the one with the best results
The case study with the vertical freezer tested a selection of compressors and it was the Embraco FMFD model the one that reached the highest results. The product is part of the FMF portfolio, the most energy efficient commercial refrigeration compressors lineup in its category of cooling capacity. The FMFD achieves a maximum displacement of 15 cc however equivalent to 21 cc, due to its high speed feature. It is also bivolt, which means it operates in 110V and 220V. In the case study, the model was controlled by Embraco Smart Drop In, a control logic software that deploys variable speed compressors with on-off thermostats. 
Another relevant feature of this compressor is that it runs on R290, a natural refrigerant with no ozone depletion potential and global warming potential close to zero. As nations worldwide release or review their regulations and action plans in order to fight climate change, the refrigerant gas used in commercial refrigeration equipment is gradually becoming a very important decision. 
Merchandisers can also benefit from variable speed
In the same presentation, Embraco and Epta showed yet another case study, with an ice-cream freezer, a kind of application also known as merchandiser. In this case, the best result achieved was 24% energy savings, using an Embraco FMX compressor. "In merchandisers, the adoption of variable speed technology is still at a very low level. We wanted to show with this case study the excellent results in terms of energy efficiency using Embraco variable speed 'entry level' compressors and which can pave the way for the adoption of variable speed technology as a standard solution for merchandisers", explains Bassi. The solutions used in this second case study also run on natural refrigerants, in this case R600a, which presentes no ozone depletion potential and global warming potential close to zero.
"More stringent requirements on energy saving are expected from regulations worldwide, reinforcing energy efficiency as a hot topic in commercial refrigeration for now and in the years to come", alerts Bassi.