Embraco offers free software to define cold room specifications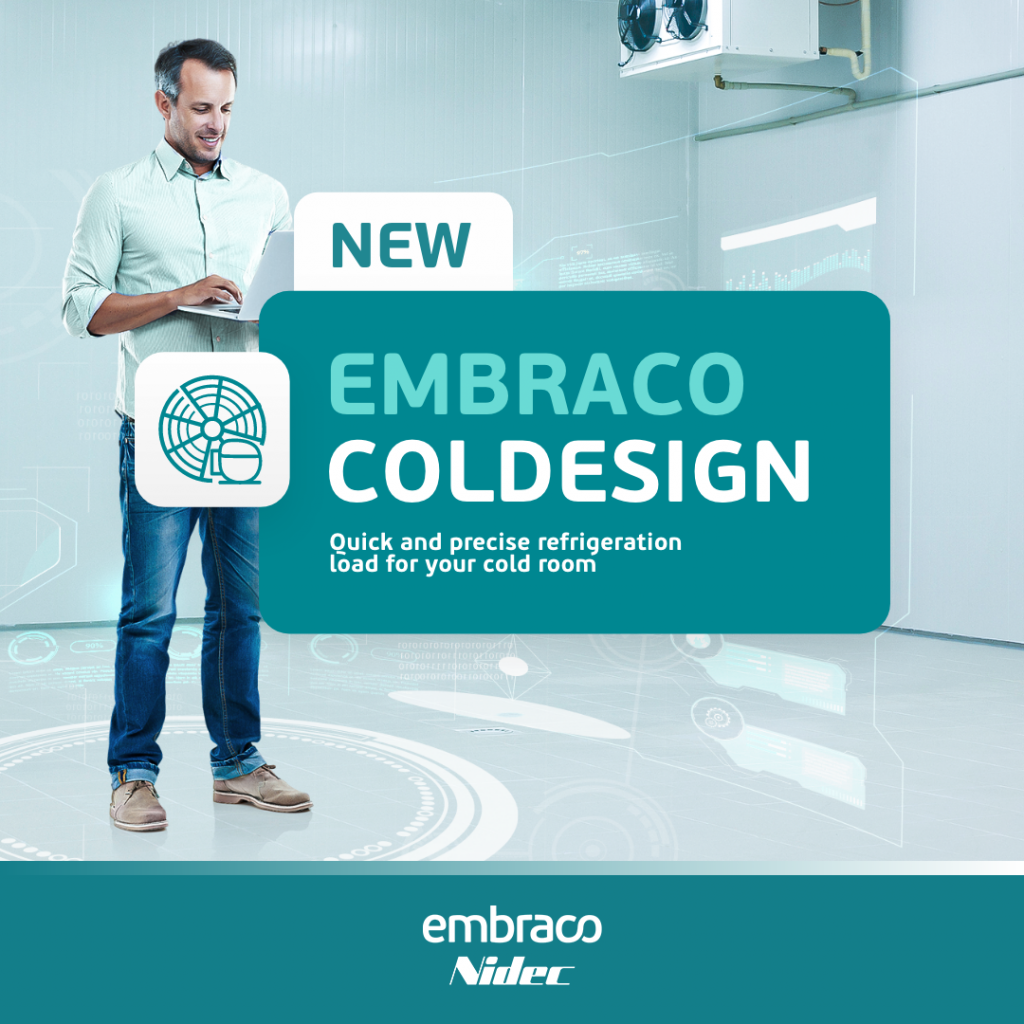 The digital service is available for European users, in seven languages, and allows to quickly calculate the refrigeration load and select the main components for a cold room
January 2021 – Embraco, a global provider of refrigeration technology for the complete domestic and commercial cold chain, and a brand of the Nidec Global Appliance portfolio, has made available for the European refrigeration market a unique digital service, the ColDesign software. Using specific algorithms, it calculates the refrigeration load for a cold room and defines what is the most suitable Embraco condensing unit for the project. 
The innovative tool is focused on wholesalers of refrigeration equipment, installers and contractors, aiming to reduce their workload and speeding up the process of building and equipping cold rooms. 
"This software means more businesses for our aftermarket customers. For example, in wholesalers, only experienced sales professionals were able to calculate the specifications of a cold room project and they got overloaded. Now, using the ColDesign, anyone in the store can do it. It means more and faster quotations, and thus the possibility of closing more deals", explains David Seignoret, Global Condensing Units Product Manager at Nidec Global Appliance, responsible for Embraco's portfolio of CDUs (condensing units). "From the installers and contractors perspective, it is a way of saving time, getting into the store knowing what they need, with precision and reliability", he adds. 
The software is easy to use and brings all the specifications in only one tool, selecting the condensing unit, evaporators, valves and pipes. It is free for download from Embraco's website (embraco.com) and its acceptance by the target users has been tested since July 2020, having been downloaded so far more than 550 times until last November. It is available in 7 languages: german, french, english, dutch, spanish, portuguese and polish. The tutorial videos are available in Embraco's Youtube channel: https://www.youtube.com/user/EmbracoExperience/videos. 
Main benefits
Fast definition of the refrigeration load

Definition of the right condensing unit according to customers needs

Easy to use

All specifications in only one tool

Selection condensing unit, evaporators, valves and pipes

It is for free
Digital tools
The ColDesign software is part of Embraco's digital services. The brand offers also the Embraco Toolbox, app with seven different features to help installers in the field (free download for IOS/Android), and the Product Selector Software, an online catalog of Embraco compressors and condensing units. It also provides a technical and educational content platform for refrigeration professionals, the Refrigeration Club and the embraco.com website which brings complete information on the brand's products and its applications.