Embraco launches new range of R290 condensing units for the European market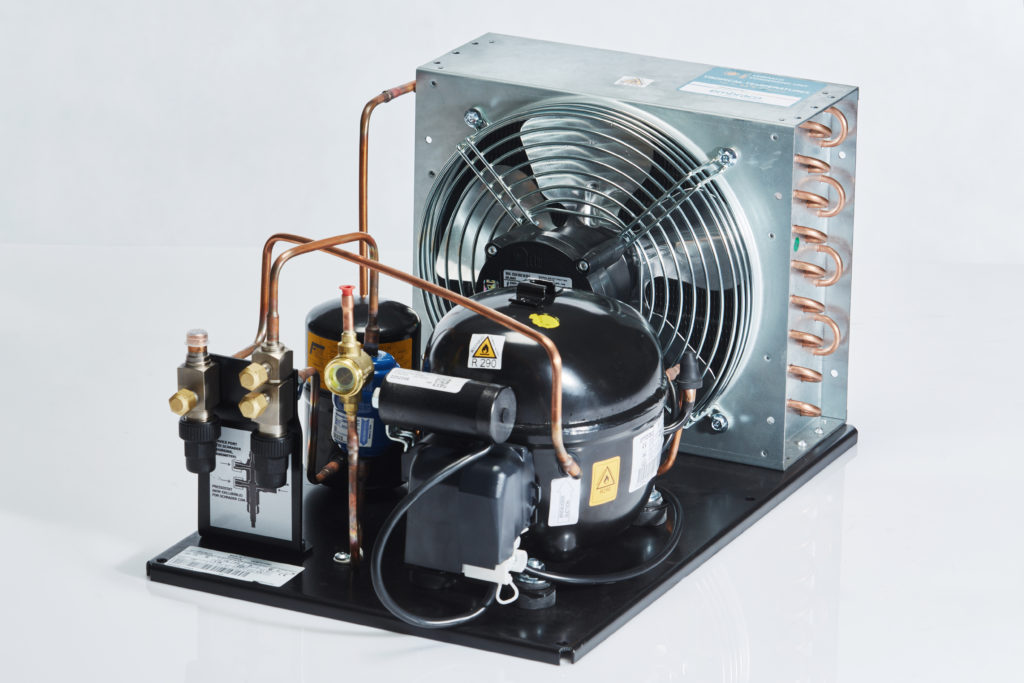 The lineup broadens the portfolio of solutions compliant with EU regulations on global warming potential (GWP) and energy consumption
August 2022 – Embraco, a global provider of refrigeration technology for the complete residential and commercial cold chain, and part of Nidec Global Appliance's portfolio of brands, announced a new range of indoor R290 condensing units for Europe, especially for food service applications, such as under-counters, blast chillers, cold rooms and reach ins. The lineup will be one of the groups of products highlighted at Chillventa, the world's leading exhibition for refrigeration technology that will be held in Germany, from 11 to 13th October 2022. This new portfolio compliments the customized R290 condensing units lines that Embraco has been providing for customers in Europe in the last years. 
The models being launched come with a set of new features, in comparison with Embraco's previous condensing units' portfolios. One is the mini-channel condenser technology, which is based on thinner tubes that raise the pressure on the refrigerant and require a smaller refrigerant charge than other technologies. Another feature is the electronic fan motors (ECM technology) in all models, which further increases energy efficiency. 
In size, the 2022 models are as compact as the HFC (synthetic refrigerant) current range, with heights going from 254 mm to 322.5 mm. The equivalent displacement options go from 4.5 cc to 38 cc available for low temperature and medium temperature applications. The cooling capacity range covers from 0.4 to 2.8 kW on MBP (at -10°C) and 0.3 to 1 kW on LBP (at -35°C). The new portfolio also reduces complexity for customers coming in 3 pre-defined configurations to choose from, for OEMs (original equipment manufacturers) or installers needs. 
The new portfolio can achieve an energy efficiency improvement of between 7% to 9%, compared to the current HFC range of condensing units. It is equipped with a set of highly energy efficient Embraco compressors using natural refrigerant R290. Compressors options include fixed speed models launched in the last three years, such as the EMX, EMC, NEX, NTX and NJX, as well as variable speed models, such as FMFT and FMFD.  
New solutions that comply with ever stricter regulations
"With this new line, our goal is to combine the latest technologies with the best alternative in refrigerant options, to offer a future proof solution, regarding regulations over global warming potential (GWP) of commercial refrigeration equipment", states Alessandro Pedrazzi, EMEA Distribution and Aftermarket Sales Senior Manager at Nidec Global Appliance.
The legislation on the subject is getting stricter. On January 1st of 2022, the new GWP limit defined by the European Commission's F-Gas regulation entered into force. It determines that hermetically sealed refrigeration systems that contain HFCs with GWP of 150 or more are banned in refrigerators and freezers used for storage, display or distribution of products in retail and food service.  For 2025, the same restrictions are set to cover other commercial refrigeration applications, such as ice machines, ice cream makers, milk coolers, water fountains, blast chillers, beer dispensers and more. 
"We consider that natural refrigerants, such as R290, are the best alternative to comply with the current and future regulations, because they combine energy efficiency with ultra low GWP", explains Pedrazzi. "The natural refrigerant R290 has a GWP of less than 1 (according to new studies of the Intergovernmental Panel on Climate Change, released in August 2021). And our experience with Embraco compressors show that it can represent  up to 10% of energy savings in the refrigeration system, in comparison with HFC refrigerants", he adds. 
This new lineup's energy efficiency levels will help commercial refrigeration equipment manufacturers to be compliant also with other European regulations: the Ecodesign and the European Commission Energy Labels, which define categories of energy consumption for professional refrigeration equipment since 2016 and for food retail refrigeration equipment since March 2021.