Case study shows 20% energy savings with an Embraco variable speed compressor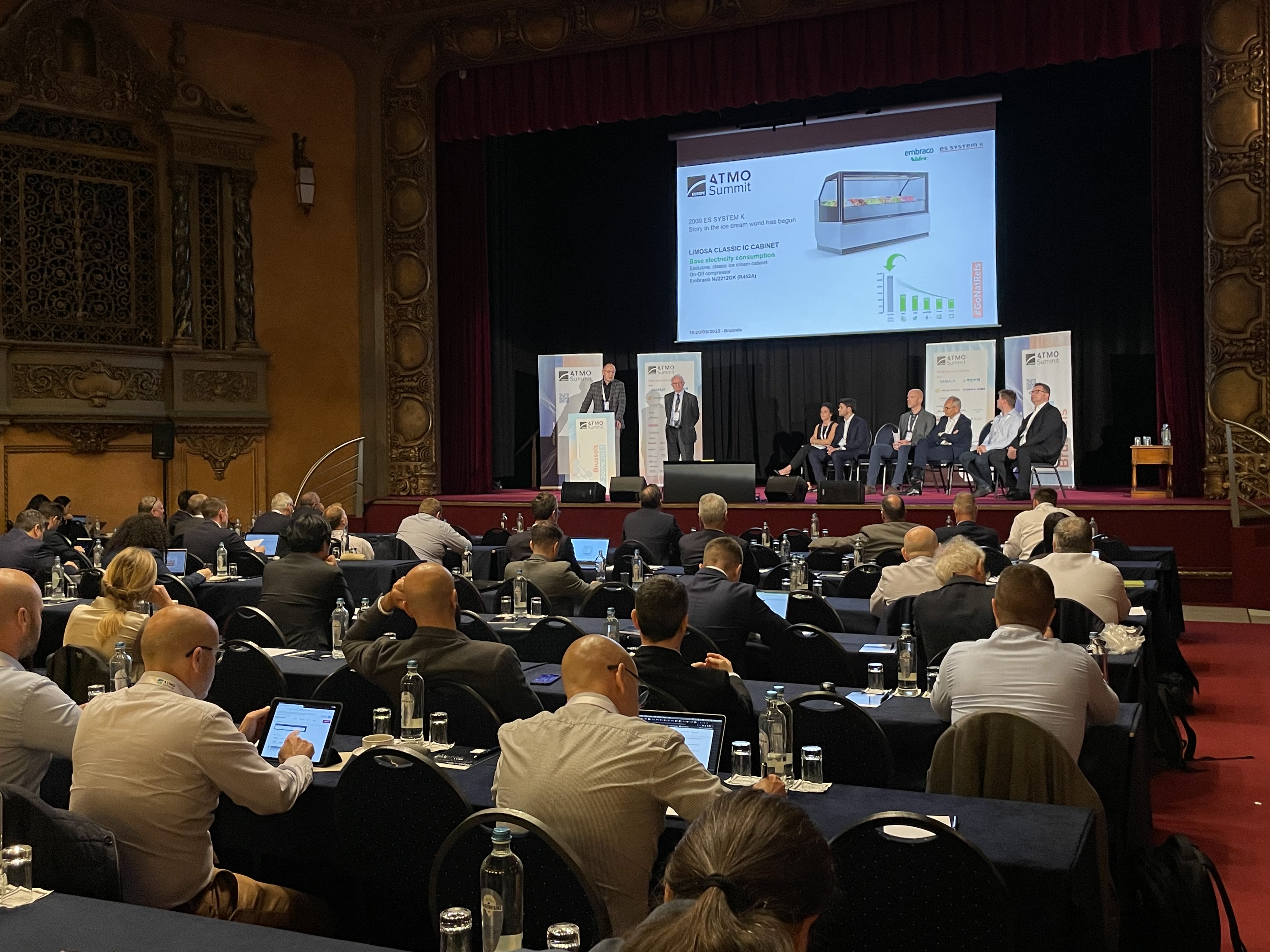 The innovative ice cream cabinet from ES System K has been tested with the FMFT415U compressor, using R290 natural refrigerant 
Brussels, Belgium, September 20th, 2023 – Embraco, a global provider of refrigeration technology and a portfolio brand of Nidec Global Appliance, and ES System K, an European manufacturer of refrigeration appliances, presented at ATMOsphere Europe Summit 2023, a case study with an ice cream cabinet that reached 20% of energy savings, using  an Embraco variable speed compressor with R290 natural refrigerant, in comparison with a fixed speed similar solution. 
The compressor's model tested was FMFT415U, applied to the Gelato INSU ice cream display, a new ES System K solution with completely hermetic, hygienic and high insulated storage spaces, with low energy consumption. "Tests allowed us to conclude that the variable speed compressor technology, combined with R290 natural refrigerant, guarantees a remarkable improvement of efficiency if compared with on-off appliances", said Marino Bassi, Key Account Senior Advisor for Nidec Global Appliance in Europe.
ES System K Technical Director Robert Pedzik added: "INSU´s ice cream cabinet is our best example of a sustainable-oriented product. Thanks to its closed refrigeration system and the advanced parameters of the Embraco variable speed compressor, the energy-saving level reached in this unit is really impressive." The product is also supported by an IoT control solution called Smart Shop Control.
Both executives presented the innovations and benefits of the product at the ATMO Europe, which took place from September 19th to 20th, in Brussels, Belgium.
Cost-efficiency package: reducing environmental impact, energy bills and product loss
The Embraco's variable speed technology allows the compressor to adjust its running speed to the demands of the refrigeration system and counts on 3 control modes: frequency control, serial control and the Smart Drop In control. This last one, is a logic software already embedded, which simplifies the setting of parameters and the matching of the compressor with the system, easing the adoption of variable speed technology. Besides it, there are the advantages of the natural refrigerant R290 (propane), which is  unharmful to the ozone layer, energy efficient, and has a GWP (global warming potential) close to 0. 
"Variable speed compressors provide greater savings, acoustic comfort, and less vibration when running at low speed", added Bassi. He explains that "this technology overcomes temperature variations caused by door-openings much faster than the standard on-off compressor models, thus improving food preservation and potentially avoiding product loss". 
The FMFT compressors are a subfamily in the Embraco´s FMF portfolio, for applications that require high cooling capacity, such as freezers, frozen islands, coolers and reach ins.  In the case of Embraco FMFT415U it is also dual voltage (110/220V), which means it is very versatile for use in any part of the world. 
Marino Bassi completed: "Our premise is to continuously provide the most customer-focused solutions in the refrigeration industry. We see a great demand for more energy efficiency, for financial, environmental and regulatory reasons. Results shown in cases like ES Systems K confirms the trends towards the change into this efficient solution".
For more information about ATMOsphere Europe Summit 2023, please visit this link.